February Favorites 2013
Olá meninas :)
Hoje venho vos falar dos meus produtos mais utilizados no mês de Fevereiro.
Tenho alguns produtinhos novos em relação ao mês passado. Vamos estão aos favoritos ;)
(E se preferirem saber

os meus favoritos

em

vídeo

deixo-vos o link no fim do post

:P
)
Hello girls :)
I'm here to show you my most used products from the month of February.
I have some new stuff comparing with the last month. Let's go to see my favorites ;)
Makeup:
A nível de maquiagem este mês que passou andei à procura de novas sombras, queria algo diferente e ao mesmo tempo parecido com a minha sombra rosa da paleta da the body shop. Assim sendo, achei uma rosa lindíssimo e umas novas cores do sample da sigma.
In the last month, on the makeup subject I start to search new eyeshadow colors to replace my beautiful pink color from the body shop pallet. I found a new pink shadow and new colors from the sigma sample.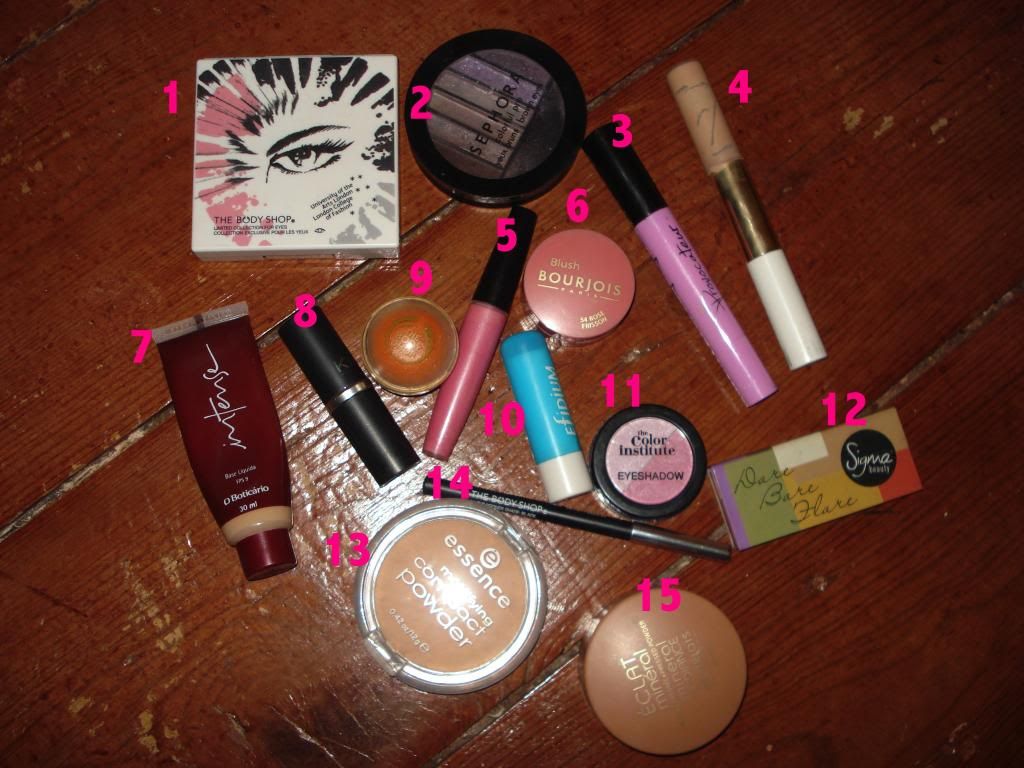 1 - Eyeshadow from The Body Shop 02 À La Mode
2 - Eyeshadow from Sephora for brown eyes
3- Mascara Catchy Eyes from Gosh
4-
Concealer 02 Estée Lauder
5-
Lip Gloss from Avon - Pale Pink
6
-
Bourjois 54 Rose Frission-
blush
7- Intense Foundation from O Boticário nº 2
8- Baton from Kiko nº 96
9- Lip Balm from Ginger Sparkle from The Body Shop
10- Lip Balm of coco from Efidium
11- Pink eyshadow duo from Color Institute
12- Dare, Bare, Flare sample from Sigma
13- Compact powder from Essence 04 Perfect beige
14- Black eyepencil from The Body Shop
15- Bronzing from Bourjois 07 hâlé
Face:
A nivel de cara apostei nos desmaquilhantes :)
For the face I invested, on cleansing products :)
1- Eyes cleanser from Labell
2 - Facial Cleansing gel from The Body Shop
3 -
Exfoliating Face scrub From Byphasse
4 -
Makeup remover from Sephora for normal skin
5 -
Nivea young control shine
Body:
Para o corpo a palavra chave foi hidratação. A minha pele tem estado muito seca devido ao frio que se tem vindo a sentir, por isso necessitei de produtos como creme de mãos e corpo e também um bom gel de banho.
For body the body the key was hydration. My skin has been very dry because of the cold days here in Portugal, so I needed to use products like hand and body cream and a good shower gel too.
3- Body Mist White Musk Libertine From The Body Shop
4-
DeoDry Chilled and Breezy from The Body Shop
5- Chocomania Body Butter From The Body Shop


Hair:
1- Garnier champo for all family
2- Straightener hair product from Gliss
3-After sun Oil from Kiko
2- Gliss champo ultimate repair
Non Beauty: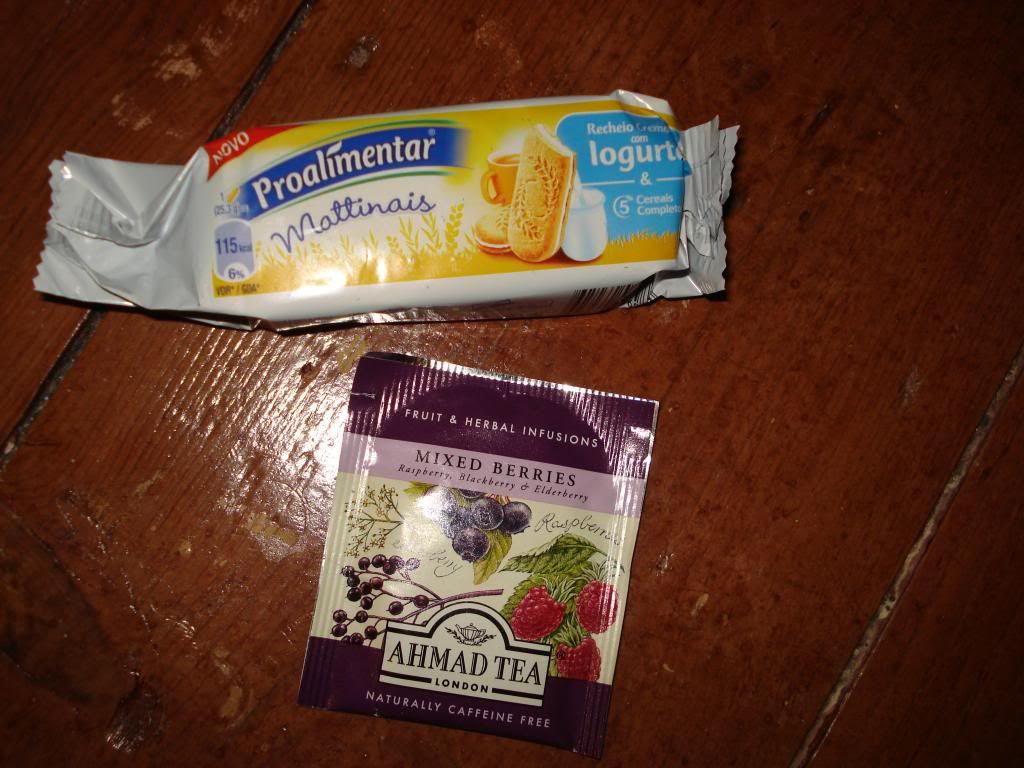 1- Proalimentar Matinais de iogurte/
Cookies of yogurt from Proalimentar
2 - Chá de Mixed Berries da Ahmad Tea/
Mixed Berries tea from Ahmad Tea
Decidi também incluir estes produtinhos porque tem sido um vicio terrível nos últimos meses.
Adoro estas bolachas de iogurte da ProAlimentar com este chá sem cafeína antes de ir deitar.
Vocês já experimentaram estas bolachas? Deliciosas não são?
I decided to include these products because it has been a big addiction for me in theses couple of months.
I love the yogurt cookies with the mixed berries tea with caffeine free before go to bed.
Have you already tried these cookies? They are delicious right?
O que acham meninas? Utilizam alguns destes produtos?
What do you think? Do you use some of theses products?
Xoxo**