Favorites August of 2012
Olá meninas :)
Hoje venho vos mostrar os produtos que mais utilizei durante o mês de Agosto.
Espero que gostem**
I'm here to show you my most used products from August.
Makeup Products:
1- Concealer from Catrice
2- Macara from Bourjois 71 noir démultiplié
3-
Sample of Lipstick from Avon
4- Nail polish from Gosh 614 Stop ON! Pink
5- Bronzing from Bourjois 07 hâlé
6- Blush from Sephora 01 Rose rebelle
7- Base Extra Virgin Minerals from The Body Shop
8 - Eyeshadow from Sephora for brown eyes
9- Eyeshadow from The Body Shop 02 À La Mode
Body Producst: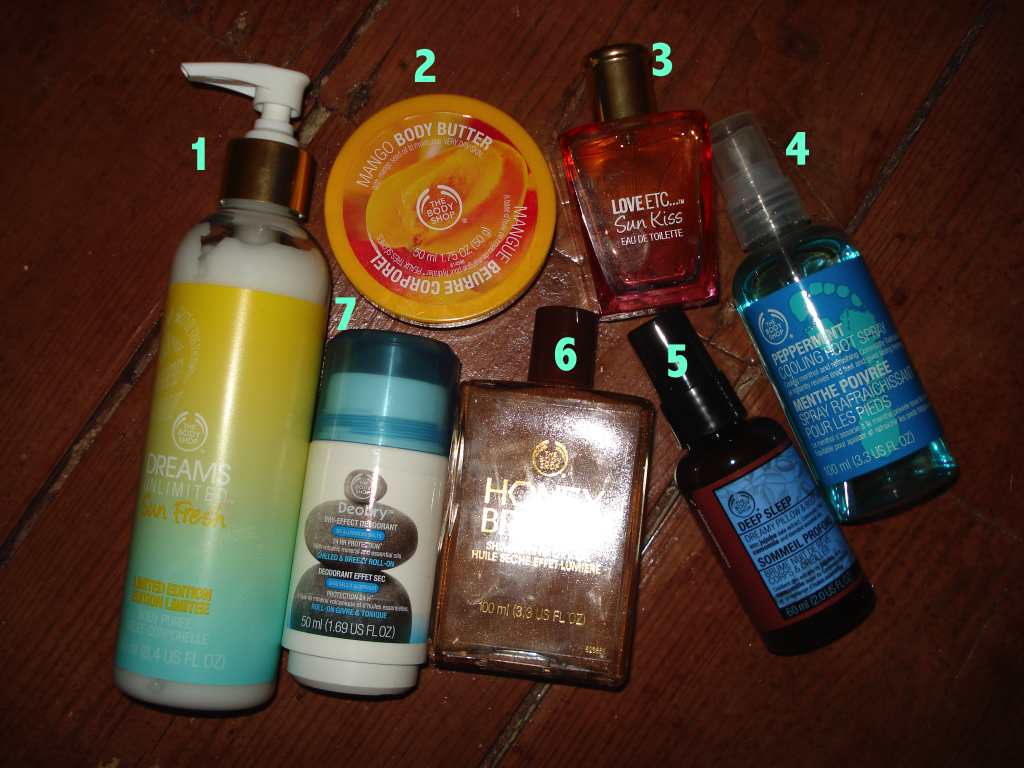 1-
Body Purre from The Body Shop Dream Unlimited Sun fresh
2- Body Butter from The Body Shop of Mango
3- Perfume from The Body Shop Love ETC Sun Kiss
4- Cooling foot spray of peppermint from The Body Shop
5- Deep Sleep from The Body Shop
6- Shimmering dry oil Honey Bronze from The Body Shop
7- DeoDry Chilled & Breezy from The Body Shop
Hair and Face Products:
1- Exfoliating Shower cream from Oriflame of mint and raspberry
2- Toner from Sephora for dry skin
3-
Elvive total repair from L'OREÁL
4
- Makeup remover from Sephora for normal skin
5- Cleansing for eyes and lips from Kiko
6- After Sun Sun Hair Repair Serum from Kiko
Já utilizaram alguns destes produtinhos?
Have you used some of these products?
beijinhos/
xoxo
****
To Know more information about The Body Shop Products go to: