Products off
Olá meninas =)
Venho-vos mostrar alguns dos produtos que já utilizei.
Hello girls =)
I'm here to show you some products that I used.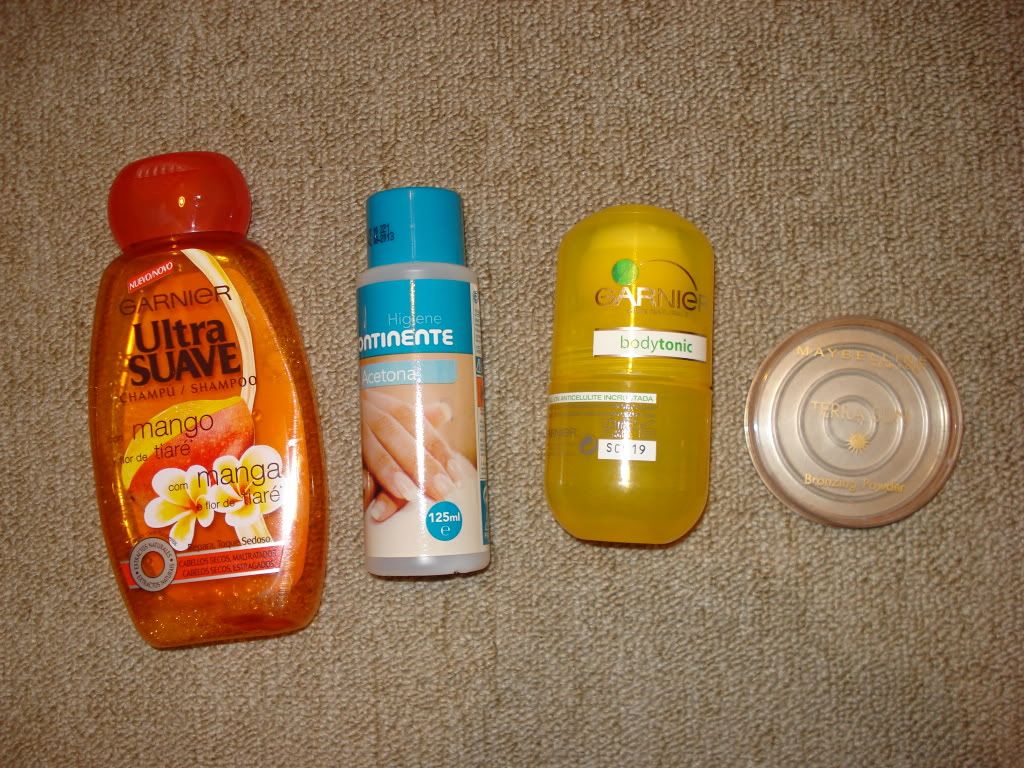 Champo de Manga da Ultra Suave- Gostei muito do cheirinho, além disso gostei dele no meu cabelo seco. Aprovodado.
Mango Champo from Ultra Suave - I like the scent very much, also it is good for my dry hair. Recommended.
Acetona do Continente -não gosto muito dela, deixa a unhas estragadas e "secas". Não Recomendo
Acetone from Continente - I don't like this, it puts my nails damaged and "dry". Not Recommended.
Body Tonic da Garnier- gostei dele, fico com a pele um pouco mais lisa como o hidrantante, por isso pelo preço que custa e em comparaçao com o hidratante da mesma marca, não volto a comprar. Não recomendo.
Body Tonic from Garnier - I like this. The effect is very similar to the moisturize from the same brand. Comparing these two products I prefer the moisturize because it's cheaper than the tonic and with the same effect. Not Recommended
Bronzeador da Maybelline - Gosto muito deste bronzeador, era o meu favorito até aparecer o da The Body Shop (honey bronze) que é mate. Este é quase mate mas não tanto como o da The Body Shop :P Recomendo.
Bronzing powder from Maybelline - I like this very much, it was my favorite bronzer before The body Shop bronzing power from honey bronze. It's very similar to this, but a less bit mate. Recommended :P
Every Me Guccy - Muito bom perfume. Doce e fresco a ao mesmo tempo. (Recomendo :D)
Every Me Guccy- A very good perfume. Sweet and fresh in the same moment. (Recommended :D)
Já experimentaram algum destes produtos?
Have you ever used these products?
Xoxo**